(CNN)If the All England Lawn Tennis Club is well known for its strict rules and regulations, fashion designer Stella McCartney says she's hoping to bring a "bit of rebellion" to the courts at Wimbledon this July.
The British designer, whose tailoring has always been noted for its elegant, easy-to-wear style has fashioned a new collection for this year's championships for some of the sport's leading players.
With white clothing strictly the order of the day on court at SW19, McCartney has taken inspiration from vintage lingerie creating dresses that emphasize femininity.
"I'm fascinated by performance and not sacrificing style for sport," McCartney told CNN in an exclusive interview. "What I love is that it's one of the few disciplines that has femininity attached to it.
"I felt that had been lost along the way, not enough was being made of this amazing opportunity for women playing tennis and so my desire was to bring fashion to the court."
McCartney's latest dresses — part of Adidas' Barricade collection — will be worn by 2015 women's singles finalist Garbine Muguruza and former world No. 1 Caroline Wozniacki.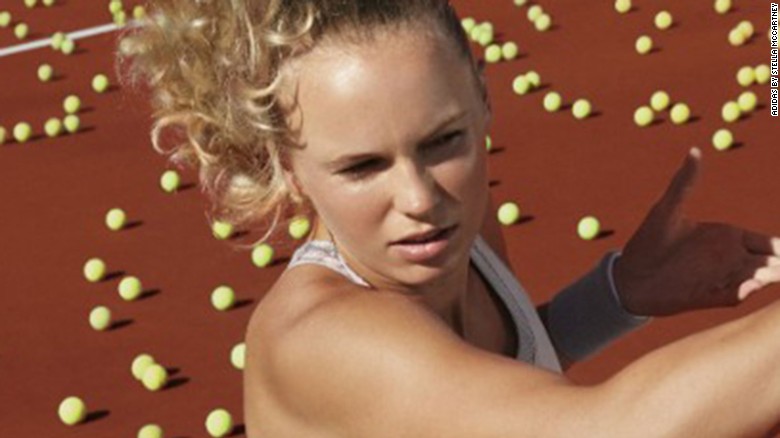 McCartney has worked closely with Wozniacki for a number of years now, helping to update the image of women's tennis kit.
"Before I started I don't think there was quite so much availability of embroideries, prints or mixing colours. I think it was perhaps a little bit more old fashioned in its approach … I like to think I've brought in a little bit of rebellion onto the court," said McCartney.
"For me, cutlines are really important to really accentuate areas of the body but also to build in the technical (aspects of sports clothing)."
Tennis fashion isn't the only area of sporting expertise for McCartney, who is perhaps best known for designing the British Olympic team's kit for the two most recent Summer Games in London and Rio.
Working with Olympians taught her about the technical requirements of sports clothing, she says, but also that athletes, just like her fashion clientele, want to look good on the public stage too.
"Technically you have to tick all of the boxes — it has to have stretch, movability, breathability — but I find there is such emotion to when you are performing sport," she said.
"As a woman you want to feel good about how you look as well — I think that has an impact on how you perform. When I was working with the athletes at the Olympic Games they told me that."
Versatility
Versatility has always been a common thread throughout McCartney's career — the 45-year-old is equally at home creating exquisitely tailored trouser suits as she is designing glamorous gowns for the rich and famous.
She is also a champion of using sustainability in fashion, using recycled ocean plastics in some products including a shoe in her collaboration with Adidas.
"I love to use innovation and technology, I love to be a game changer — that's what I find exciting," added McCartney, who is the second child of Beatle Paul and American photographer wife Linda.
"I think the fashion industry, in (the sustainability) conversation is very old fashioned. I think we are an industry that could perform in a more mindful and responsible manner and that's my intention."
McCartney's pioneering efforts with environmental recycling and her crossovers into sportswear are clearly important to the designer but at her core she remains committed to making women look and feel good — off and on the court.
Visit CNN.com/tennis for more news and features
"I've had a lot of positive feedback, normally around how feminine and sensual that they feel — I think it's a difficult thing being a woman in a man's world in sport," she says.
"I feel very proud of what we've done with Barricade and the Adidas collaboration. I believe we have really managed to fuse fashion and sport successfully and I think there's a lot more we can do."