LONDON—Asked what he missed most about professional tennis, Pete Sampras once said that it was the feeling that would come over him an hour before the Wimbledon final. He would start to feel sick, because he knew the whole world was going to be watching.
That's how most players talk about Centre Court. On the one hand, they wouldn't trade the chance to play on it for anything; on the other, walking out there is the most nerve-wracking experience of their lives.
On Sunday, Roger Federer wouldn't have wanted to be anywhere else. With his 6-3, 6-1, 6-4 win over Marin Cilic, he won his men's-record eighth Wimbledon—for the first time, he did it without dropping a set—and his men's-record 19th major title. After limping out of the same arena 12 months ago with a knee injury, and wondering if he would ever be back again, this was one of the most gratifying wins of Federer's two-decade career.
For Cilic, though, his first experience in a Wimbledon final was nothing short of a nightmare. Two days earlier, at the end of his semifinal win over Sam Querrey, he had begun to feel pain from a blister on the ball of his left foot. Tournament physios had worked on it before the final, but the pain persisted through his practice on Sunday morning.
"They did as much as they could," Cilic said. "Every time I had to do a reaction fast, fast change of movement, I was unable to do that."
After being broken at 2-2 in the first set, Cilic's game quickly unraveled. His swings were late, and he lunged for the ball, rather than taking little steps to set up. By the end of the set, knowing that the pain wasn't going to cease, he was in tears.
"It was just a feeling that I knew that I cannot give my best on court," Cilic said, "that I cannot give my best game and my best tennis, at such a big match."
Federer said he wasn't aware of what Cilic's specific problem was; as of his post-match press conference, he still didn't know.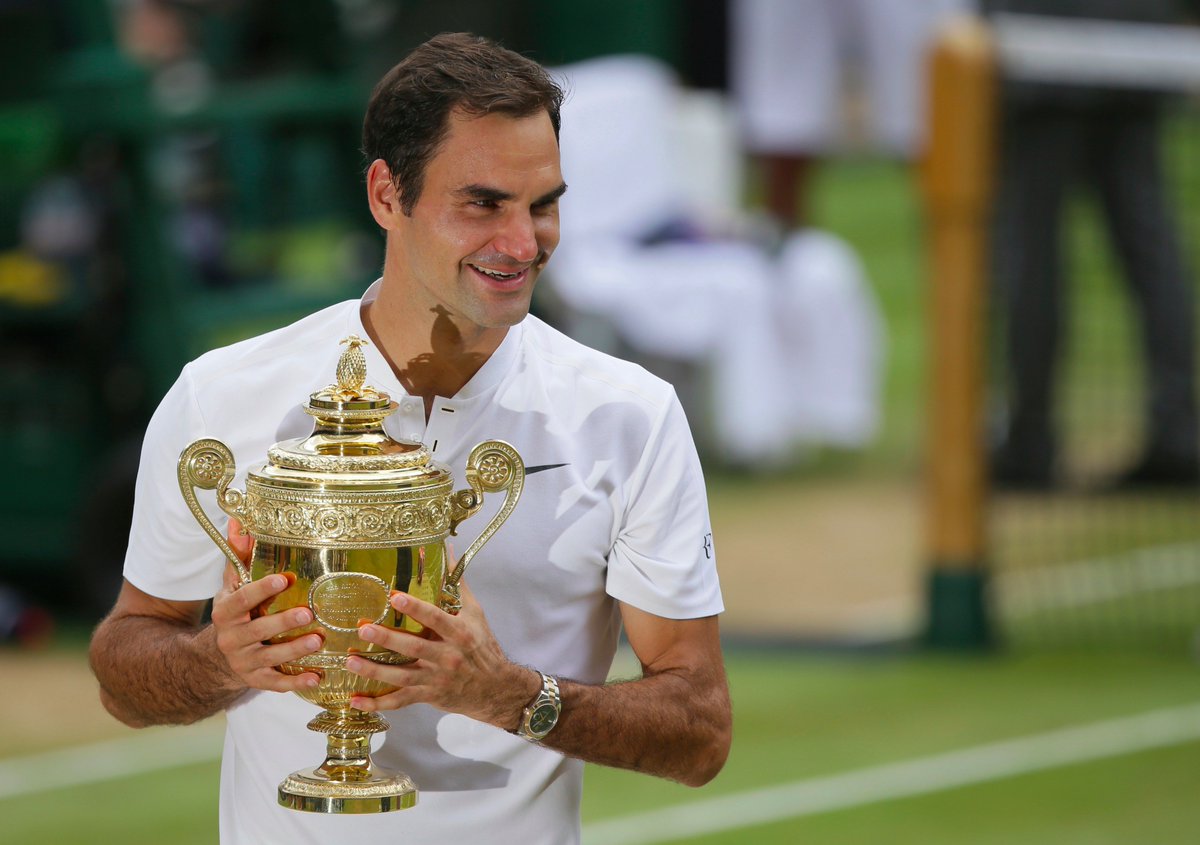 "I thought maybe he was dizzy or something," Federer said. "Because I couldn't tell what it was, it actually made things easier…Because I didn't know and I couldn't tell, I just said, 'Focus on your game.'"
Beforehand, I had picked Cilic to win. He had been building up to this moment through the grass-court season, and he had nearly beaten Federer here last year. But even when Cilic was hitting decently at the start today, Federer was up to the challenge. He handled Cilic's flat deep drives, and by the middle of the first set he had begun to read the Croat's serves and tee off on them.
Federer's new, freer, stronger backhand was in evidence, too. Near the end of the first set, he rocketed two backhand passes at Cilic from close range; the second one went for a winner. In this match and in his straight-set quarterfinal win over Milos Raonic, the man who beat him here in 2016, Federer showed how much better—sharper, stronger, more complete—he is now compared to 12 months ago.
"Honestly, it was all based on health," Federer said. "It wasn't about the game itself, how I should play when I came back to Wimbledon this year. It was all [to try to] put myself in a good physical state that I could compete with the best and play seven times in five sets. That was my goal. I achieved that."
The British sportswriter Simon Barnes used to say that Federer had the ability to make it seem as if he and his opponent were colluding to raise his game to greater heights. Look closer, of course, and you can see that Federer's victories are based on his ability to attack his opponents, to get in the first strike more successfully and consistently than they do. But there was a sense during this fortnight that fate, or the tennis gods, were colluding to push Federer to victory.
It felt, from the start, like a re-coronation. Rafael Nadal, Federer's great rival, lost 15-13 in the fifth set in the fourth round. Novak Djokovic and Andy Murray, champions here the last four years, were felled by injury in the quarterfinals, while Cilic was slowed by a blister.
The fans at Wimbledon didn't mind. They gave Federer standing ovations for forehand winners. After each of his wins, they waited for him to cross the elevated foot bridge that connects Centre Court and the media center; when he gave them a wave, they waved back. They were ready to explode in the final, until the air was taken out of the building by Cilic's emotional reaction to his blister problem.
After a battle-scarred two weeks, Federer, at 35, was the last man standing. He credited the support of his family and team for getting him back to this place.
"I did ask them the question sincerely, to everybody on my team, if they thought I could win majors again," Federer said. "Basically, the answer was always the same from them: That they thought if you're 100 percent healthy and you're well prepared, you're eager to play, then anything's possible."
Federer says he's still surprised by how well his 2017 has gone.
"So I guess you would have laughed, too," he told a reporter, "if I told you I was going to win two Slams this year."
The experience has opened his eyes about what he can accomplish—with the right amount of rest—in the future.
"I just got to always remind myself that health comes first at this point," he said. "If I do that, maybe things are actually possible that I didn't think were."
What would keep him going to 40? That old Centre Court feeling, of course.
"I've always been a big-stage player," Federer said. "I always felt like I played my best on the biggest courts. I struggled on Court 18, to be honest…I just didn't feel I hit the ball as good there than on Centre Court. That was always going to be a good thing, if I played the best players, or in the bigger matches, that that would serve me well."
Sampras, the player who Federer passed today for the most Wimbledon men's titles, missed that Centre Court feeling after he retired, even though it had made him sick. Nineteen years after his debut here, Federer still can't get enough. He's not going to miss it until he absolutely has to.