HTC likes to try new things – like a little thing called Android. And while it's no longer in the lead of that market, it still managed to put out one of the most interesting devices of 2017. Yes, we're talking about the HTC U11.
The design is an HTC classic that harkens back to the original One. The unique "liquid glass" used for the back creates a constantly shifting spectrum of colors that changes as you move the phone. We also appreciate that the body is IP67 waterproof, it makes it an honorary Butterfly.
Like the Butterfly, the HTC U11 offers a sharp screen (5.5" QHD) and a powerful chipset (Snapdragon 835). Unlike the Butterfly, the U11 is widely available and does not have a dual camera – that didn't stop HTC from offering one of the best cameras we've seen this year.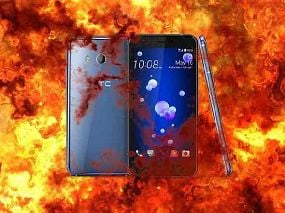 The image quality and the speed of the autofocus of the 16MP camera easily stood up to the Galaxy S8.
Edge Sense enables a unique interaction – squeeze the phone to launch the camera or perhaps your digital assistant of choice. The U11 is the first phone to offer Amazon's Alexa in addition to the Google Assistant.
Much praise and no criticism. Has HTC done it, has it made a certain winner? Well, the lack of a 3.5mm headphone jack ruffled some feathers. However, HTC is selling the U11 at sub-S8 prices (in the US at least, in Europe it is closer to the S8+).
With that in mind, are you buying what HTC is selling?