HTC U11 comes with a new way of interacting with a smartphone: squeezing
HTC U11, the Taiwanese company's answer to the Galaxy S8 and iPhone 7 Plus, is all set to launch in India. So while HTC remains mum about the launch, the flagship phone has been found listed on the company's e-store in India. The listing doesn't indicate its price or release date, it seems apparent that the phone will be launched in India shortly.
Interestingly, the company's site lists the smartphone will be come in two variants; one of the models will feature 4GB RAM and 64GB storage and the other variant will come with 6GB RAM and 128GB internal storage. At the same time, LlabTooFer, noted HTC ROM developer and tipster, has claimed that HTC U11 will going on sale in nine more countries including India, China, Taiwan, Malaysia
Singapore, Hong Kong, Russia, Saudi Arabia and Philippines. Additionally, the tipster reveals all these territories will be getting the 128GB variant with 6GB RAM.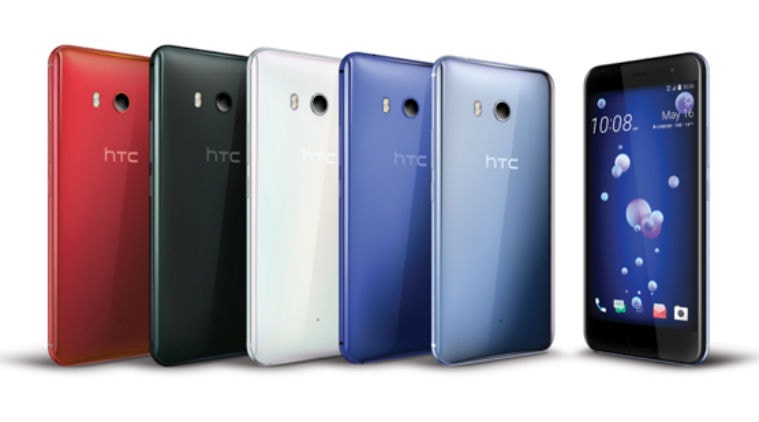 Last month, HTC launched one of the most distinguished smartphones in the premium segment which is heavily dominated by the likes of Apple and Samsung.  The U11 comes with a new way of interacting with a smartphone: squeezing. The device has a number of sensors embedded into the lower half of the metal frame. By applying pressure on the metal frame, you can accomplish a number of tasks, including opening an app, taking a picture and recording an audio. The company calls the feature Edge Sense
The phone comes in a range of two-tone colours and can be purchased in five options: Sapphire Blue, Brilliant Black, Amazing Silver and Ice White – while Solar Red is coming sometime later this year. It features a 5.5-inch Super LCD WQHD display with a resolution of 2560×1440 pixel. The phone is powered by a 2.45GHz octa-core Snapdragon 835 processor. The internal storage is expandable up to 2TB via a microSD card. The phone gets a 3,000mAh battery, and supports Quick Charge 3.0.
It also features Android 7.1 Nougat, 12-megapixel rear shooter and a 16-megapixel front camera, and front-facing BoomSound Hi-Fi speakers. HTC U11 is IP67 rated, which makes it dust and water resistant.
HTC has clearly struggled to strengthen its position in the smartphone market. Its last few flagship phones including the U Ultra have failed to live up on consumer expectations. HTC might be looking to turn around its fortunes with the release of the U11.