Apple has bought Finnish sleep tracking firm Beddit to boost its health and fitness services, as it attempts to secure its place in the "quantified self" market.
Beddit, which was founded in 2007 and has been selling its sleep tracker in Apple stores since 2015, confirmed the acquisition with an updated privacy policy.
The update revised on 8 May said: "Beddit has been acquired by Apple. Your personal data will be collected, used and disclosed in accordance with the Apple privacy policy."
Terms of the deal were not disclosed, but Beddit had raised $3.5m (£2.7m) in funding since it was founded.
The £130 Beddit sleep tracker consists of a 1.5mm thick strip of sensors that are placed on ttop of the mattress and connected to a wall outlet for power. Combined with an Android or iPhone app, the Beddit 3 sleep sensor tracks sleep time and quality, heart rate, breathing rate and snoring. It also acts as an intelligent alarm clock that wakes you up in the lightest sleep phase.
The Espoo-based company partnered with fitness tracking firm Misfit in 2014 to create the co-branded Misfit Beddit, before Misfit and its Shine fitness tracker were acquired by watchmaker Fossil group for $260m in November 2015.
Beddit has been described as the "Fitbit of sleep" for its easy to use sensor and comprehensive night-time tracking and analytics, an area that Apple is weak. To date Apple has not featured sleep tracking at all within its iPhone or Apple Watchfitness apps.
Third-party sleep tracking apps, including Beddit, have filled the gap using the iPhone, but with its requirement of a nightly charge, sleep has remained the Achilles heel of the Apple Watch's otherwise fairly comprehensive health-tracking tools.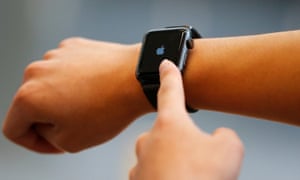 Apple, which has become the first company to top the $800bn mark in market capitalisation, has found itself in a battle with San Francisco-based Fitbit for not only the top smartwatch, but also the top wearable device. Until recently, Fitbit was the market leader in wearable device sales, but according to data from Strategy Analytics, Apple has overtaken Fitbit to become the world's largest wearable device manufacturer, shipping 3.5m Apple Watches and holding 16% of the global market in the first quarter of 2017, a figure up 59% year-on-year. Apple was closely followed by China's Xiaomi with 3.4m wearables shipped and 15% of the market, while Fitbit slumped to third with just 2.9m wearable devices and 13% of the market, down 36% year-on-year.
With wearable device shipments growing by 21% to 22m units in Quarter 1 2017, it is a market Apple could use to contribute a meaningful sum to its bottom line, which is currently dominated by a single product – the iPhone – that has seen declining sales.
While the initial focus for smartwatches, including Google's Android Wear watches and the Apple Watch, was around apps and notifications, it quickly became apparent that health and fitness was a driving reason that customers bought the items.
For Apple and any other smartwatch makers, comprehensive fitness and health tracking is essential. Sleep tracking has remained the domain of fitness trackers such as the Beddit, or wrist-worn devices such as the Fitbit Charge, which do not need charging each night to last through the day.
Whether Apple will continue to sell the Beddit sleep sensor remains to be seen. It is likely the technology and sleep analysis behind it will end up in future Apple products, including the Apple Watch.