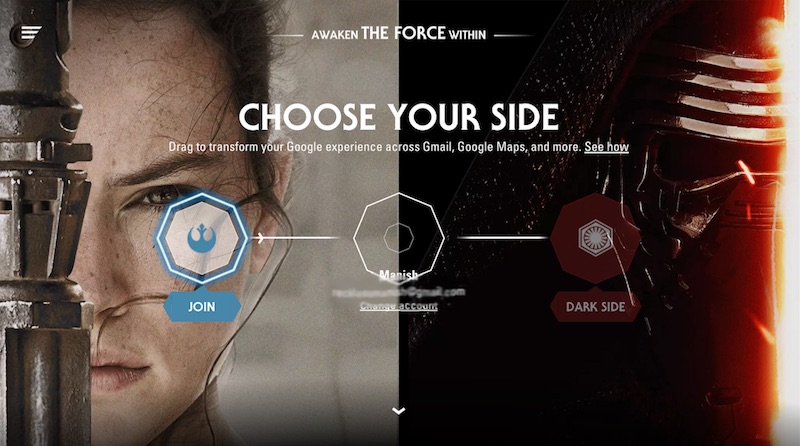 Everyone is anxiously awaiting the release of The Force Awakens, the seventh and newest movie in Star Wars franchise, and tech giant Google is no different. The Mountain View-based company is offering users customised themes to turn their favourite Google apps and services to reflect their Star Wars preference. These include Gmail, Google Maps, YouTube, Chrome, and more.
The company is letting users join the Light or the Dark side of the force, and accordingly, will change the colour and icons of Google services with the colours and icons of the Empire or the Rebel Alliance, depending on your choice. You can select your favourite side by visitinghttps://www.google.com/starwars. You will need to sign into your account, if you aren't already, before making a choice, however.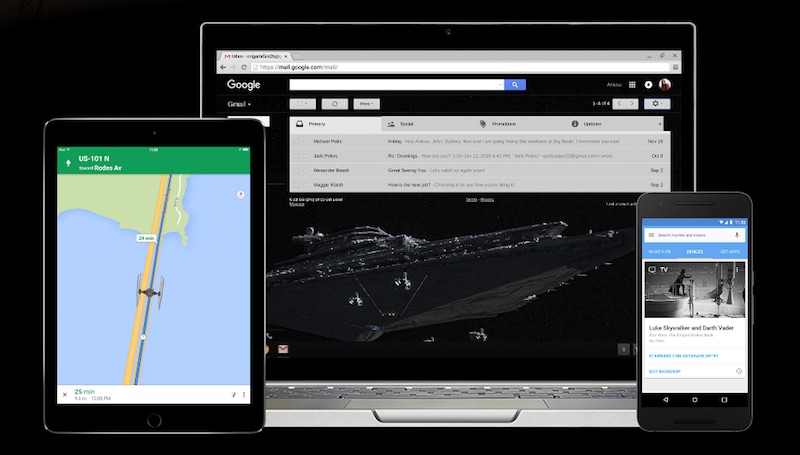 "It's a place for fans, by fans, and starting today you can choose the Light or the Dark side, and then watch your favourite Google apps like Gmail, Google Maps, YouTube, Chrome and many more transform to reflect your path," said Clay Bavor, VP of Product Management at Google. "And that's just the beginning. We've got more coming between now and opening night — the Millennium Falcon in all its (virtual) glory included, so stay tuned. And we've hidden a few Easter eggs, too."
Once you've made your decision, your Gmail background, for instance, will get replaced by scenes from the Star Wars universe. Your location on Google Maps will also get replaced with the Millennium Falcon, and your YouTube loading screen will also become force-coloured. You will see references to Star Wars throughout Google services including Search, Waze, Android Wear, and others. You will also see December 18, the day the film is scheduled to release, marked on your Google Calendar.
Let us know in the comments which side you support. Do you look up to the Jedi or the Sith? Would you fight for the Empire or the Rebel Alliance.