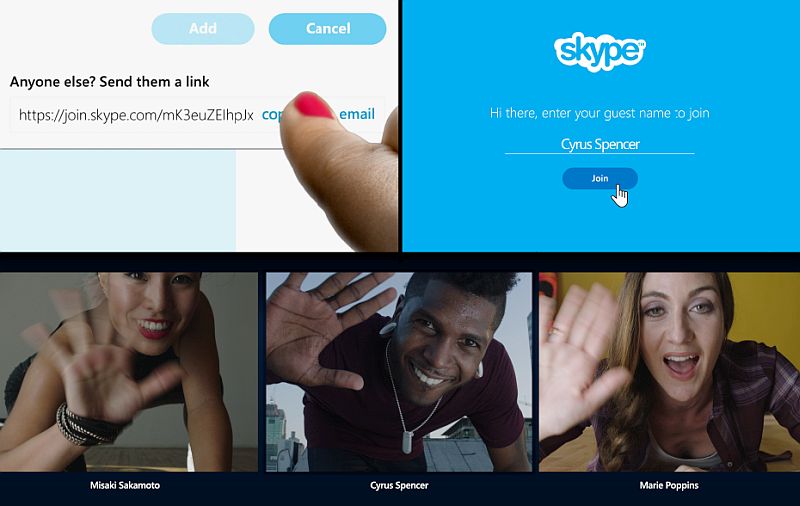 Microsoft's popular video and voice chat service has announced the rollout of a new ability that will allow anyone to join a Skype group chat via a unique shared link. The new addition to Skype breaks away barriers that previously required anyone who wanted to have a Skype chat to have the app installed on their device and an account.
With the new feature, users can invite anyone to join a Skype group chat by a unique link that can be shared via an email or social platforms (Facebook and Twitter) or even messaging apps such asWhatsApp or Messenger. The invited user can join chats, voice and video calls as a guest from a computer using Skype for Web and will no longer require having the app installed or even have a Skype account.
Those users who have a Skype account can start using the PC, Mac, or Web apps to create the link which when shared with guests – including those who already have Skype accounts and the app downloaded on their Android, iPad, or iPhone device – enables them to join the conversation.
Skype has confirmed that the Windows, Mac, and Web Skype users in the US and UK can start using the new feature. The company will start rolling out the feature to other regions in coming weeks.
"Additionally, if you have a Skype name and Skype downloaded on your mobile, you can join a conversation on Skype for iPhone, iPad and Android. We'll be rolling out to the rest of the world over the next couple of weeks and bringing the ability to start a conversation and share a link from mobile devices soon," said the Skype Team in a blog post.
Microsoft's Skype for Business app, which was unveiled back in August for iOS and Android as a preview, recently was publically released for iOS users. The company promised Android version to arrive "later this year". Skype had also rolled out an update for its Android app that brought Android Wear support.